Building your Show Schedule with Timelines
You are able to use Timelines to build out the schedule of your shows and events.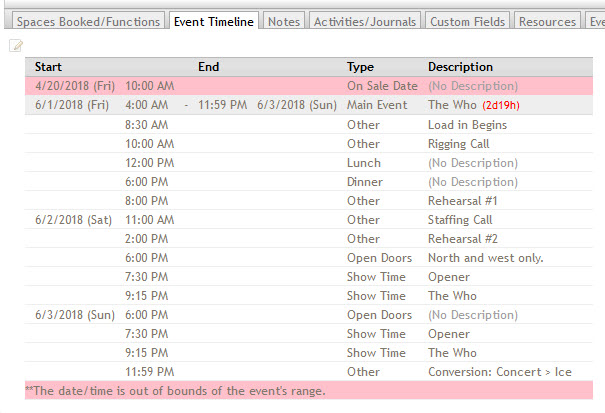 As you can see in the example above, we have the arena booked from 4:00 am through 11:59 pm for the concert - that is the time that is contracted for this event. By using timelines, you can detail each item throughout the day so that everyone is aware of what's going on and when. These timeline items can also be pulled into reports and custom forms, and displayed on the calendar (see this article for more information on calendar display options).
Adding a Timeline Item
1. On the event details page, go to the Timeline tab and click the paper/pencil icon.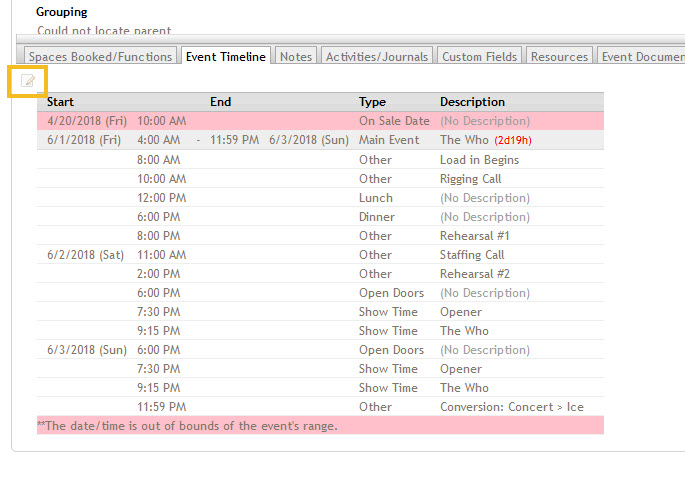 2. Click Add.


3. Add the date and start time of the item.


4. You may specify a duration via the drop down list, or if it is a "point in time" item (such as doors opening) the duration can be 0:00.


5. You may also add a time range. Select the Range radio button to enter an end time.


6. Select the type of item from the drop down list. This list can be customized for your venue - contact our support team at support@eventbooking.com for assistance.


7. Add any additional information in the Description box.


8. If you would like to continue adding timeline items, click Add Another. When you are finished, simply click Add.


9. Click Save to save your additions.


Editing a Timeline Item
1. On the timeline tab, click the paper/pencil icon.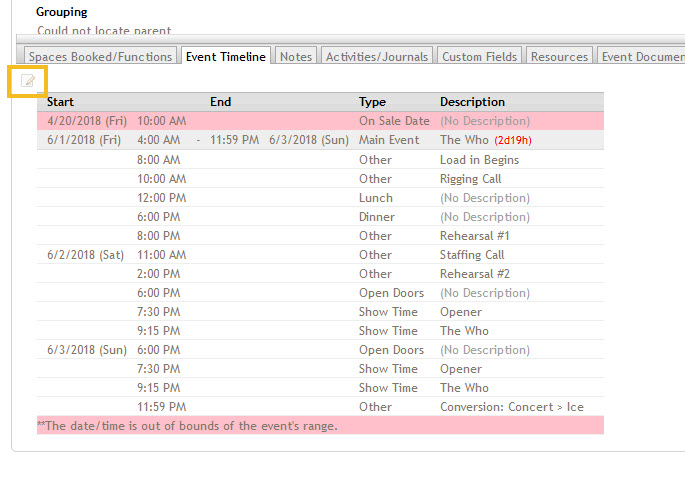 2. Click the paper/pencil icon by the item you wish to edit.


3. Make the changes in the popup and click Save.


4. Be sure to click Save at the bottom of the tab to save your edits!