Managing Refunds
If a client has outstanding deposits with unallocated funds, you can issue a refund to reach a zero balance. This tutorial will walk you through how to add and manage refunds in the invoicing premium feature.
Note: This article assumes that your company has subscribed to the invoicing premium feature and you have the proper permissions to view and edit invoices.
---
Open the Refunds Tab
Navigate to the client's invoicing page.
Click Refunds.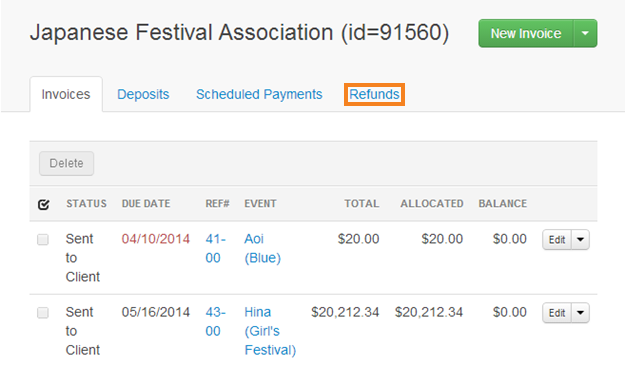 ---
Create a New Refund
There are two ways to create a new refund:
If a client has never been issued a refund, you can click Create a refund on the Refunds tab.
Click the green box with a white down-arrow next to New Invoice, then click New Refund.
Set the date on which you would like the refund to be recorded. Optionally, you can also add a reference or note to the refund.
Check the boxes next to the deposits with unallocated funds you wish to refund. The checkbox icon at the top of this column will quickly select/deselect all the deposits.
Click Save.
---
Edit a Refund
Click Edit to the right side of the refund's information.
You can now edit the reference, note or date of the refund.
Note: you cannot edit the deposits included in a refund once the refund is created. If an adjustment needs to be made to the refund's amount, you must delete the refund and create a new one.
---
Delete a Refund
Check the box next to the refund you would like to delete. The checkbox icon at the top of this column will quickly select/deselect all the refunds.
Click Delete.
Click OK to confirm the deletion.
---
Preview a Refund
Click the down arrow next to the Edit button for the refund.
Click Preview..
EventBooking will generate a preview of your refund.